Life in Ryukoku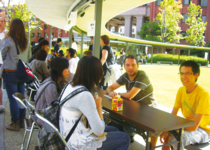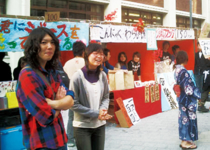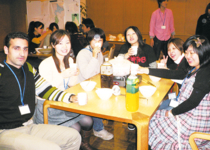 ---
Academic Year at Ryukoku University
The academic year is divided into two semesters
- Spring Semester: Early April to early August
- Fall Semester: Middle-September to early February
Club Activities
 There are 43 sports clubs, 35 culture clubs, 6 religion clubs and 74 common interest groups at Ryukoku University, many of which engage in activities on a daily basis. International students can also participate in these extracurricular activities, which provide an opportunity to interact with Japanese students.

---
Student Services
All students have access to excellent academic facilities and services such as a medical insurance provided by Japanese government (Fee required), on-campus health clinics, foreign student lounges, personal counseling, student Co-op, and discounts on long distance transport etc.
Accommodation
Ryukoku University provides rooms for approximately 200 students in 5 dormitories. Japanese student tutors also live in these dormitories to assist international students with day-to-day living and studies.
Cost of Living (monthly)
As a general guide, students should allocate approximately ¥80,000 per month, or ¥960,000 per year for expenses in Japan. This does not include tuition fees.
| | |
| --- | --- |
| Estimated monthly Budget | Japanese Yen (¥) |
| Accommodation | 10,000-35,000 (University dormitory) |
| Food | 20,000 |
| Health costs | 5,000 |
| Public transport | 14,000 |
| Books, Stationary | 5,000 |
| Clothing, Toiletries, Entertainment | 10,000 |
| Total (approximately) | 80,000 |
Scholarships
Ryukoku University maintains a fee assistance system under which 50%* of tuition fees incurred by international students enrolled in regular undergraduate or graduate courses of study is subsidized. Scholarships are also available to enrolled international students and students taking special courses, and students may apply for scholarships offered by public institutions and private organizations as well. (*This is subjected to change)