2021.08.06
[Report of the ACS2020] Plenary Session with Q&A Session_Asst. Prof. Adam Lyons
Prison Ministry in Contemporary Japan
The Asian Criminological Society 12th Annual Conference (ACS2020), hosted by Ryukoku University, was held online for four days from June 18 to 21, 2021. The purpose of the conference, the second of its kind to be held in Japan after the 2014 Osaka conference, was to promote the growth of criminology in Asia and Oceania, and to promote academic exchange with advanced regions of criminology such as the United States and Europe.
>> ACS2020 Program https://acs2020.org/program.html
The overall theme of the conference is "Crime and Punishment under Asian Cultures: Tradition and Innovation in Criminology". The aim was to promote understanding of the social systems and culture and measures against crime and delinquency in Japan, which is said to be "the country with the least crime in the world".

The following is a summary of the Plenary Session with Q&A Session, which was held live streaming at the conference.
[PL04] Prison Ministry in Contemporary Japan
- Plenary Speaker: Adam Lyons (Assistant Professor of Faculty of Business and Commerce, Keio University, Japan)
- Chair: Shin-ichi ISHIZUKA (Professor, Faculty of Law, Ryukoku University, Japan)
- Date: 10:45-12:15, 20 June, 2021
- Keywords: prison, chaplain, dilemma, karma, volunteers, church, buddhism, death row, condemned criminal, fieldwork, karmic connection

---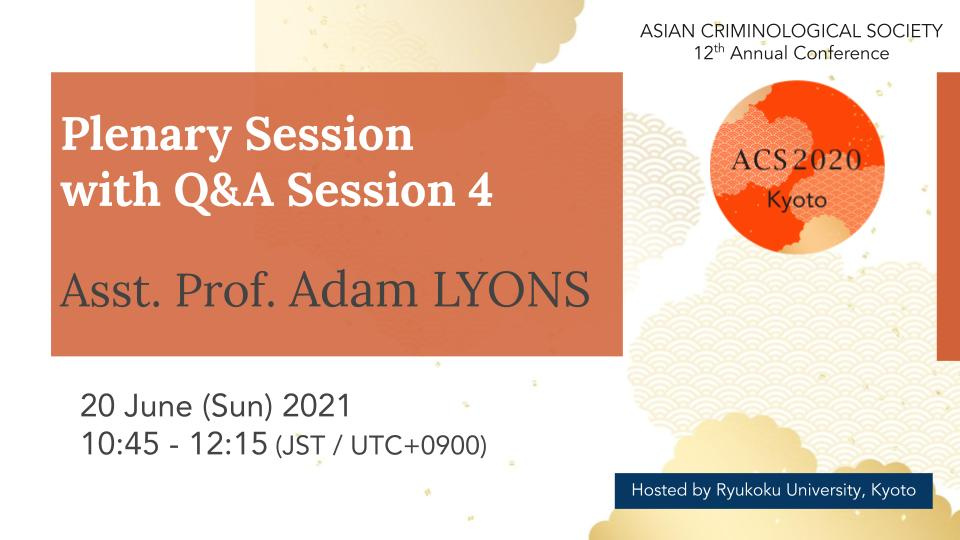 ---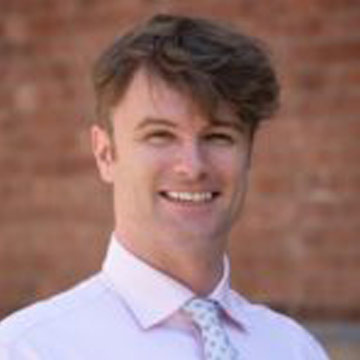 Abstract
Despite being one of the most avowedly secular nations in the world, Japan may have more prison chaplains per inmate than any other country. The majority of these chaplains are Buddhist priests. In this talk, I will introduce the Japanese form of chaplaincy based on the Buddhist concept of doctrinal admonition (rather than Euro-American notions of spiritual care).
My upcoming monograph Karma and Punishment: Prison Chaplaincy in Japan is based on archival research, fieldwork inside prisons, and interviews with chaplains. In this talk, I will share the major findings of my book, revealing another dimension of Buddhist modernism that developed as Japan's religious organizations carved out a niche as defenders of society by fighting crime. Between 1868 and 2020, generations of clergy have been appointed to bring religious instruction to bear on a range of offenders, from illegal Christian heretics to Marxist political dissidents, war criminals, and death row inmates. The case of the prison chaplaincy shows that despite constitutional commitments to freedom of religion and separation of religion from state, statism remains an enduring feature of mainstream Japanese religious life in the contemporary era.

Summary of the Q&A Session

Question 1: Do you think that prison chaplains should play a more active and significant role in the campaign to abolish the death penalty in Japan? If so, what do they need to do in order to play a meaningful role?
Answer 1: It is true that prison chaplains can help in the effort to abolish the death penalty in Japan. However, it is very difficult for them to play a meaningful role in the campaign to abolish the death penalty. If a chaplain makes political statements, he or she may be banned by the authorities from contacting inmates. Most chaplains refrain from making political statements in order to remain involved with the inmates. In this sense, the prison chaplains face a big dilemma.

Question 2: In watching the movie "Deadman Walking," I noted that Sister Prejean was very active in speaking about and acting on the issue of the death penalty. Why are Japanese counselors so reluctant to speak or act in a legal or political manner?
Answer 2: The Japanese Constitution stipulates a strict separation of religion and state. Therefore, if a chaplain is involved in activities to abolish the death penalty, the prison will claim that he or she is violating this constitutional principle. If chaplains get involved in political activities, they will be abandoning inmates who are really seeking moral relief. Keiko Horikawa's "Kyokaishi" (Kodansha, 2014) is based on an interview with real-life chaplains to death row inmates. Fuso Watanabe depicts how stressful a job it is to be a chaplain to death row inmates. Every chaplain to death row inmates must feel a great burden.

Question 3: There seems to be a gap between the official manuals of each religious sect and the actual activities of the chaplains in prisons. I would like to know if you know of any efforts to bridge this gap.
Answer 3: I am not aware of any organized effort to create a new manual that comprehensively reflects what is actually being done in the field. Each chaplain works in his or her own way. Education for the improvement of indoctrination is usually said to be teaching for good guidance. For example, "If you do bad things, bad things will come back to you as retribution. Because you have sinned, you are in prison as payback for your evil karma. Bad karma can be eliminated by conversion. This is the traditional and typical story of karma. However, Miyoko Fukai, the prison chaplain introduced in the report, said, "I often work with people with intellectual disabilities. In order to teach those who do not have the ability to learn easily, the educational penalty system model does not work well. The chaplains are trying to solve structural problems within the walls by being kind to those who have spilled over from the social safety net.

Question 4: Do inmates have to disclose their religious beliefs to the public when they are incarcerated in a penal institution?
Answer 4: Visits to the chaplain are not compulsory, but are conducted when requested by an inmate. There are many reasons why inmates want to meet with them, including the wish to receiving counseling, and because the chaplain's activities overlap with other workshops. Before World War II, it was mandatory for prisoners to receive religious teachings. All the chaplains were monks of the Hongwanji school of the Jodo Shinshu sect in the East and West, and they were civil servants. Buddhism in Japan is diverse and there are many different sects, but the largest traditional Buddhist sect is Jodo Shinshu. Many Westerners have an image of Japanese Buddhism as Zen Buddhism. The most politically and culturally influential Buddhist sect in modern Japan has been Jodo Shinshu, especially from around 1900 to 1945, when the Honpa Hongwanji and Otani sects of Jodo Shinshu dominated the prison ministry.

Question 5: Please explain "karmic connection".
Answer 5: The concept of "karma" is well known in the West. The title of my upcoming book is "Karma and Punishment". This title reminds me of Dostoevsky's "Crime and Punishment". Although "crime" and "karma" seem similar, I use the concept of "karma" in the book to explain how chaplains develop and institutionalize these two conflicting missions. In official documents and the like, chaplains use a "karmic" discourse. However, in private conversations, they often use the expression "karmic connection" rather than talking of "good (or bad) karma" or "cause and effect". This can be seen as a resistance to top-down, narrowly defined, one-sided impositions. In the West, Christian chaplains often use the discourse of "spiritual care," which is not officially used in Japan, even though something similar was sometimes mentioned in the interviews. I believe that Japanese chaplains have their own concept of "Mental Healthcare."
With this in mind, I did not use Western concepts in the title of my book, but used the Japanese word "karma," which comes from Japanese Buddhism.

Question 6: It seems to me that Christian chaplains deny the theology of "karma".
Answer 6: There is no movement to deny the "karma" story in Japanese prisons today. In Japan, with the exception of a few pioneers from the Meiji period to the early Showa period, Christian chaplains generally did not appear until after the war. Christian chaplains do not base their teachings on the idea of karma, but they do use the metaphor of "karmic connection". Since that is a common expression used in daily conversation rather than a religious one, Christian chaplains use it as one of their everyday terms.

Question 7: Will theology continue to be practiced as part of rehabilitation in Japan?
Answer 7: Indeed, Japan, like the West, is becoming a non-religious society. However, the Chaplain program continues to exist as part of the prison system, and the 2017 edition of the "Chaplain Manual" (edited by the Chaplain Manual Editorial Committee) describes "karma," "purification," and "correction" in the same way as the previous edition, which is somewhat anachronistic. However, the discourse of "Mental healthcare" is becoming more popular in Japan, and if chaplains start using this discourse, the theology will probably change. Prisons in Japan are aging. The real prisons are full of people who have fallen through the social safety net and have nowhere else to go. It does not make much sense to talk to them with a focus on the doctrine of "karma." In fact, that is what the teachings say.

Question 8: Are chaplains active during the COVID-19 pandemic?
Answer 8: I talked to the Japan Federation of Chaplains, and was told that everything has stopped. There is no face-to-face visitation, although correspondence is still going on. The penitentiary seems to be limiting the number of visits because many elderly inmates are at high risk of infection.

[Reference]
https://www.waterstones.com/book/karma-and-punishment/adam-j-lyons/9780674260153
https://www.amazon.co.uk/Karma-Punishment-Chaplaincy-Harvard-Monographs/dp/0674260155
https://www.amazon.co.jp/-/en/Adam-J-Lyons/dp/0674260155/ref=sr_1_1?dchild=1&keywords=Karma+and+Punishment%3A+Prison+Chaplaincy+in+Japan&qid=1624157388&sr=8-1


Recorded by Shin-ichi ISHIZUKA