> Studies
>

Faculty of International Studies
Faculty of International Studies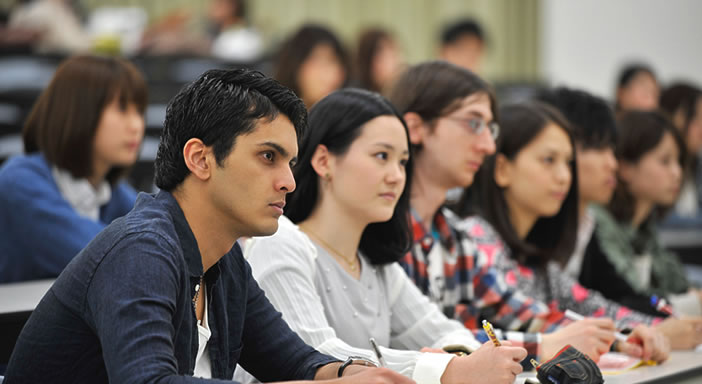 Department of Global Studies
Developing leaders who play active roles on the world stage
The aim of this curriculum is to foster human resources who flourish globally by helping students develop global knowledge and views, communication ability to collaborate with people from different cultural backgrounds, and universal moral values through the intensive English study program from the first year, the compulsory overseas study program and the special subject studies that facilitate multifaceted insight on international affairs.
This curriculum is recommended for a person who is interested in -
acquiring business-level English proficiency
working globally from Japan or overseas
studying overseas for specialized subjects
The solutions we provide -
Intensive program to learn English as a global language from the first year to prepare students to communicate with the world.
Guarantee in English proficiency at graduation – TOEIC® TEST score 730, TOEFL® score 550 (PBT), 80 (iBT), or IELTSTM 6.0 as requirements for graduation.
Ability to debate about global issues in both Japanese and English.
80% of entire classes are taught in English or in both English and Japanese. Specialized subjects are taught in English.
Multilingual teachers who play active roles on the world stage provide full support for each student.
Department of Intercultural Communications
Developing human resources to become a bridge between Japan and the world.
Under our motto, "Learn the World and Know Japan," we offer courses to learn various foreign languages and cultures in order to develop human resources who are capable of mediating conflicts between different cultures, transmitting information of Japanese culture to the world, and contributing to the facilitation of cultural diversification in local societies of Japan.
This curriculum is recommended to a person who is interested in -
learning various languages, cultures and religions
taking a role as a transmitter of the Japanese culture to the world
assisting foreigners living in Japan
The answers we provide -
Studying a language of choice from English, Korean, French and Chinese, in order to understand a different culture..
Spanish, Portuguese, German, Persian, Arabic, Russian and Turkish classes are offered as electives.
Three courses of "Multicultural Society ", "The World and Japan", and "Arts and Media" to choose from. Students can acquire specialist knowledge according to their interests.
"Intercultural practical program" to the 2nd-year students. In this program, students learn practical skills to apply the knowledge they learned, through their participations in a project of their choice from studying abroad, a cultural study project in Japan or abroad, video production and so forth.
40% of full-time faculty members are foreign teachers (as of April 2016). Students "Learn the World and Know Japan" through their daily interactions with the teachers.