Overview
Social Innovation through Food and Agriculture
Food and agriculture food have received a lot of attention in recent years. Food is the core of our lasting happiness and agriculture plays a significant role in supporting it. And now, those two elements – Food and Agriculture – are about to become an academic discipline, which is not only closely related to but also very important to our lives. The new academic discipline require students to put what they learned into practice based on theories.
Along with social development, food and agriculture have become increasingly entwined with society. Today, research covering various fields is demanded simply because the number of issues which cannot be solved by focusing on a single specialized field are increasing. To meet the demands of a new age, we reorganized and set up a new graduate program by combining four departments in the Faculty of Agriculture, i.e., the Department of Plant Life Science, the Department of Bioresource Science, the Department of Food Sciences and Human Nutrition, and the Department of Agri-food Systems, and promote practical educational research, considering "food" and "agriculture" as one comprehensive field. "Social Innovation through Food and Agriculture" is the new frontier of education and research that Department of Food and Agriculture Science aims to open.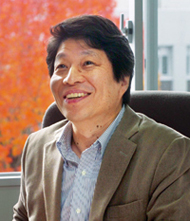 Toru Fushiki, Professor and Director of Graduate School of Agriculture
Goal of Human Resources Development
We will foster human resources capable of dealing with every food and agriculture-related issue mankind faces – whether it is domestic or international – seriously, contributing to the realization of a sustainable society, as well as making a sound judgment on every issue related to life, resources, food, and the economy from the agricultural perspective.
"Capable of gaining an insight into the nature of things, thinking in a future-oriented manner, and ethically making a value judgment ethically."
"Having both local and global perspectives and being able to contribute to solving both local and global challenges.
"Capable of contributing to regional revitalization and development based on local connections regarding food and agriculture."
"Capable to contribute to the advancement of the discipline of food and agriculture."
"Having the knowledge and skills not only required for highly specialized jobs but also essential to become a researcher."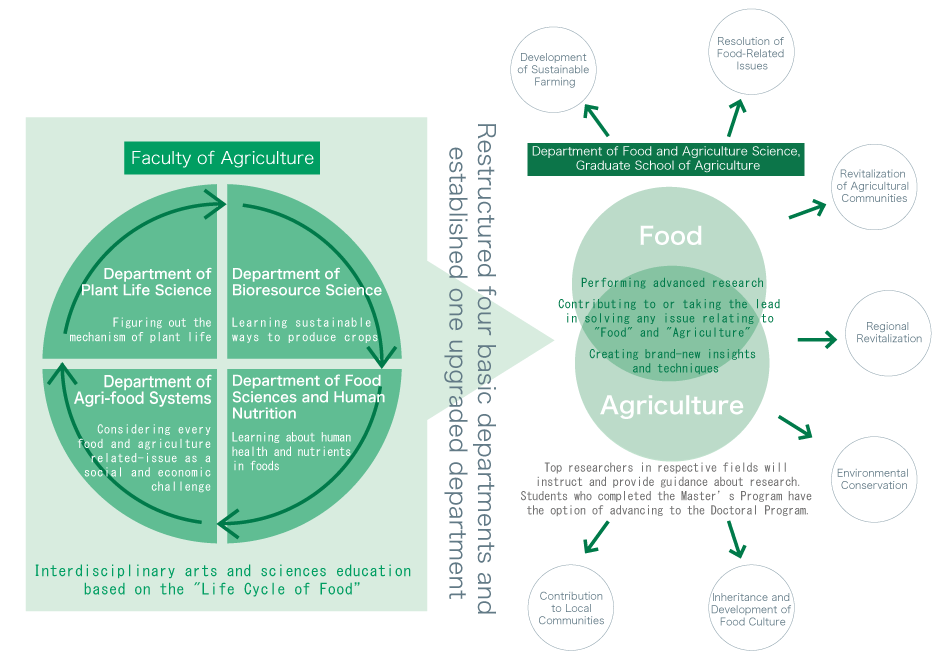 Areas of Specialization
Curriculum
The faculty provides the recommended combination of courses students should take so that they can learn and acquire knowledge and skills necessary for their research. Please note that the faculty may guide you to take courses which are not listed below in order to realize interdisciplinary learning.

Research Model for Studying the Agricultural Production Sciences
Students are required to engage in various research, including but not limited to the basic science research in order to discover plant life phenomena; research relates to the development of new agricultural production methods which enables plants to maximize their growth potential in an efficient way; research on the development of new species which have unconventional characteristics; research on microbial functions and their usage at every phase of "the food cycle" such as the production, processing, and disposal of food.
Research Model for Studying the Agriculture of Local Communities
Students are required to see the reorganization of local communities and the revitalization of the local economy in terms of "the reconstruction of an agriculture-focused society," and to become financially independent in an increasingly globalized world. They are also required to explore both domestic and global strategies to realize sustainable development in the region (i.e. to realize sustainable local communities and local agriculture) – including the conservation of the natural environment as well as inheritance of culture and history – in a social-scientific way while considering the connection between "food" and "agriculture."
Research Model for Studying the Food and Human Nutrition Sciences
Focusing on "food preferences," "the nutrients in food," as well as "food safety," students are required to delve deeper into various themes including "the development of meals and food which improve quality of life (QOL) in all stages of human life including clinical settings" and "economic performance as well as management and marketing techniques which relate to the development of the desired food."