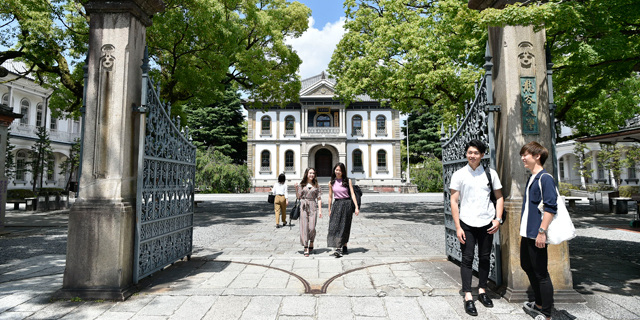 125-1 Daiku-cho, Shichijo-dori, Omiya Higashi-iru,Shimogyo-ku, Kyoto 600-8268
TEL:(075)343-3311 FAX:(075)343-4302
Details of Facilities
Central Hall (Important Cultural Property)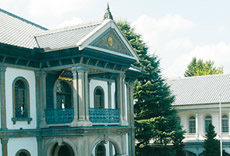 Built in 1879, this symbolic building of the Omiya Campus is designated an important cultural property. Recent major renovation has restored it to its original elegant state. The first floor is occasionally used for exhibitions by student curators.
North Hall (Important Cultural Property)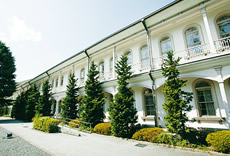 The North and South School Buildings are a pair of graceful buildings with beautiful white walls and a series of impressive European-style arched windows. Like the Main Hall, these historic buildings were constructed in 1879 and are designated as important cultural properties. When lit up at night, their white walls shine beautifully.
Guard station (Important Cultural Property)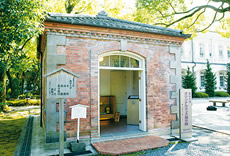 This is another important cultural property, just like the Main Hall and the North and South School Buildings, and the Old Guard House is now used as a show space.
Library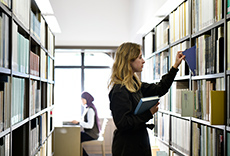 The Omiya library holds about 660,000 volumes with an emphasis on the humanities. In particular, the collections on Shin Buddhism, Buddhism, history and literature are some of the best in Japan in terms of both their quality and quantity. The Omiya library is a treasure trove of rare books such as "Ruiju-koshu" (a Classified Collection of Old Poems, a national treasure), a version of "Manyoshu" recompiled by subjects such as season, heaven and earth, and landscape in the Heian era. Other examples of rare books are a first edition of "Kaitai-shinsho" (A New Book of Anatomy), the first Western medical text in Japan translated from Dutch into Japanese in the pre-modern period, and historic materials excavated from Central Asia by the Otani Mission in the early 20th century.
COOP Cafeteria (1st floor, Seiwakan)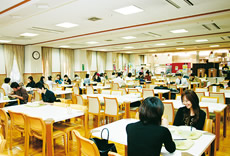 This cafeteria offers an extensive variety of dishes including noodles, rice dishes, fried foods and side dishes. Side dishes change daily and are sold by weight so that you can eat as much of your favorites as you want. This is also good for students living away from home who tend to eat out a lot. The cafeteria is open to the general public.
Bookshop (Basement level 1, Seiwakan)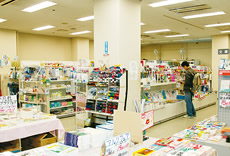 The bookshop sells often hard-to-obtain academic and specialized monographs as well as ordinary books. You can also order books if they are not immediately available. Adjacent to it is a general store where you can buy most of your daily necessities such as stationery supplies, and light foods including rice balls, soft drinks, snacks and sweets.
West Hall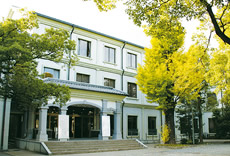 This U-shaped building, located to the west of the Main Hall, is designated as an important cultural property. It accommodates offices for professors of the Faculty of Letters. On the first floor is the administration office for the Faculty of Letters, the campus clinic (Omiya Clinic) and a conversation lounge.
East Hall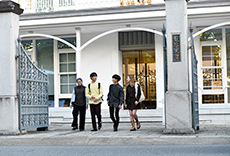 This main classroom building on the Omiya campus is located directly facing the Main Hall. There are classrooms both for small seminars and large lectures. A unique cloister facing a courtyard on each floor provides students space to relax during breaks. In front of this building is the stop for shuttle buses between the Fukakusa and Omiya Campuses.
History and Basic Information
The history of Ryukoku University dates back to a religious seminar established in 1639 on the temple grounds of Nishi-Hongwanji in Kyoto. On its birthplace, Omiya campus upholds the dignity of its 370 year history, composed of nationally important cultural property buildings such as the Main Hall, North and South School classroom buildings, the Main Gate and the Old Guard House.
The Omiya Library, with its outstanding collections centering on Shin Buddhism, Buddhism, history and literature, preserves many rare books that have been designated as national treasures or important cultural property and provides enormous resources for education and research.
History
1949: Established the Faculty of Letters (4 year system)
2009: Established the Graduate Course for Practical Shin Buddhism
Campus Size
19,612m²
Student population
2,345 (as of March 31, 2009)
Number of library holdings
670,767 (as of March 31, 2009)