Fukakusa Campus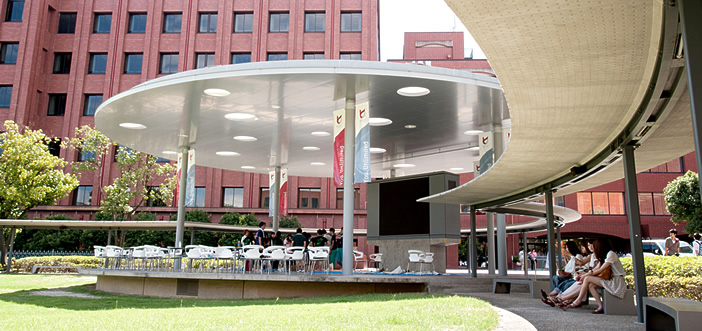 67 Tsukamoto-cho, Fukakusa, Fushimi-ku, Kyoto 612-8577
TEL:(075)642-1111 FAX:(075)642-8867
Facilities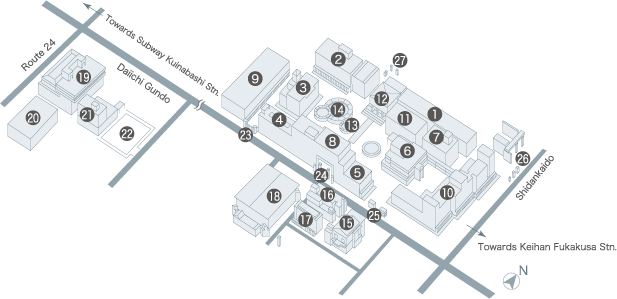 Undergraduate & Graduate Programs
Research Centers
Ryukoku Research Center for Interdisciplinary Studies in Religion, Science and Humanities
Details of Facilities
Cafe Jurin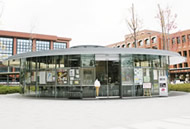 Cafe Jurin (meaning "Forest"), operated by a social welfare organization, is located in the open space inside the circular glass walls. The outside walls double as billboards providing information to students.
Fukakusa Library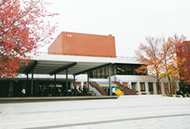 The library is not only proud of its huge number of books but also its many rare collections. It is especially renowned worldwide for its Nagao Collection of approximately 16,300 volumes of books on corporate, organizational and industrial histories. The library has spacious reading rooms with more than 1,200 seats and also many audio-visual materials such as CD-ROMs and DVDs, not to mention Internet access.
Entrance Deck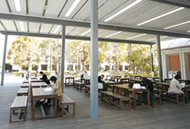 A wooden deck adjacent to the library's entrance has many tables and chairs for reading and relaxing. As the deck is higher than the central plaza it can also be transformed into a small stage for performances and is often used for events during the annual university festival.
Stone Pavement in front of Kenshinkan Hall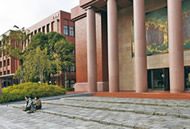 The space in front of the Kenshinkan Hall is paved with stones that used to pave Kyoto's old tram network. A huge porcelain panel painting, "Gion-shoja," originally created by the eminent artist Ikuo Hirayama, hangs above the main gate of the Kenshinkan Hall and is lit up at night. The paved path from the main gate to the Kenshinkan Hall is also attractively illuminated each night.
Stage, Corridor & Open Grass Plaza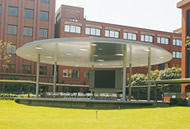 The central space of the campus consists of a grass plaza surrounded by a covered corridor and a stage with a large TV monitor (Ryukoku University Vision). The stage space has tables and chairs for students to relax when it is not being used for special events.
CO-OP Cafeteria in the basement of Building 3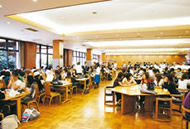 In addition to hearty meals such as set menus and rice bowl dishes, this cafeteria has a mini buffet, a side dish bar and a salad bar corner so students can get delicious food every day. Among the many popular dishes are "Kensuke-don", a rice bawl dish originally made by a Ryukoku student, and "Ryuchan Ramen", an authentic Chinese noodle dish with a soup that's simmered for two days.
CO-OP Cafeteria in the basement of Building 2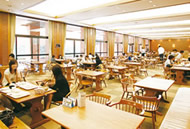 Since Building 2 has many classrooms for the Junior College, which has many female students, the cafeteria has a slightly different atmosphere. From delicious pastas and a mouth-watering rice omelet with half-boiled eggs, to sandwiches and parfaits, there's something for everyone.
Gymnasium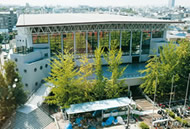 It's said that the unique geometric design of the gymnasium, comprised of a combination of steel pipes was inspired by the gigantic roof above the festival plaza of Expo held in Osaka one year prior to its construction in 1971. The floor space is big enough for three tennis courts and is used for PE classes and extracurricular student activities.
Restaurant in the Gakuyu-kaikan (Student Hall)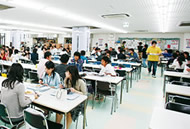 Just like the main dishes, the selection of side-dishes and various desserts such as shortcake are very popular here. Students can freely choose from hearty dishes to calorie-calculated healthy ones, depending on their mood or physical condition. Another benefit is that this cafeteria is open until late so members of extracurricular clubs and circles as well as students living away from home can make use of it for dinner too.
General Information Building (Building 5)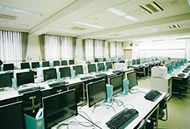 Computer classrooms and so forth providing the latest information technology can be found in the General Information building. In "self-study rooms", students can freely use computers and, if necessary, resident student-staff provide advice and assistance so even beginners can feel at ease.
History and Basic Information
The Fukakusa Campus, with its distinctive red brick buildings, was established in Fushimi Ward, Kyoto City, southeast of Kyoto Station, in 1960 as a commemorative activity of the 700th anniversary of the death of the Buddhist monk Shinran-shonin. During Japan's period of high economic growth, the Faculties of Economics, Business Administration and Law were opened to expand and enrich educational and research activities. Thus, in the 60s Ryukoku University developed into a comprehensive university of humanities.
Fukakusa campus has now become the center of the University with its administrative headquarters, general information building, language classrooms and cafeterias that enrich student life.
History
1949 Faculty of Letters Established (4 year system)
1950 Junior College Established
1961 Faculty of Economics Established
1966 Faculty of Business Administration Established
1968 Faculty of Law Established
1972 Graduate School of Law Established
1982 Graduate Schools of Economics and Business Administration Established
2011 Faculty of Policy Science Established
2011 Graduate School of Policy Science Established
Campus Size
82,033m2
Student population
9,559 (as of May 1, 2009)
Number of library
holdings
838,038 (as of March 31, 2009)